Can you spot a fake Lamborghini? Some of these fakes look pretty real to the untrained eye… but if you know what you're looking for you can spot them a mile away.. that being said.. there are a few that can trick any car enthusiast.
Heres why we hate replica cars… Usually they're poorly built, they drive poorly and well… they just feel a bit.. I don't know desperate.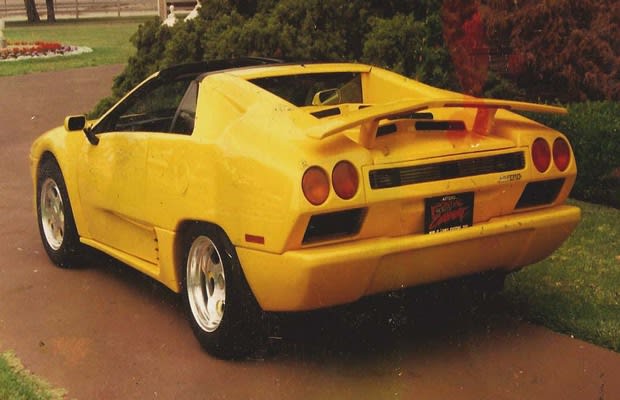 So you get your replicas that aren't even close to looking what they should look like. I mean what even is that above? Did they build this by memory or did they use a photo for reference?
Then you get the fakes that actually aren't all that bad..
Pretty mental right? I actually wouldn't mind these replica's if they were built with the real car in mind.
Heres the easy way to spot a replica.
Check the Lamborghini's engine, fake Lamborghini's rarely have the real Lamborghini engines install.
Here is another very good fake
This one even had fake lambo badges, fake carbon fibre, fake wheels.. but its a great job. You could see the Green from this MR2. The number plate confirmed it was a Green, Toyota MR2! It does have a lovely paint job though. A fake like this will cost you a bit probably and if you had that kind of cash lying around I'd much rather save for a real one. It could be a fun little project though and hats off to anyone who can build a fake better than that.
If you don't fancy building a fake Lambo you too can have your own second hand Lamborghini Gallardo LP550-2 5.2 2dr one for about $100,000…
2011
Coupe
13,500 miles
Semi-Automatic
£109,980
How nice are they though! I'd much rather have a second hand Lambo over a fake.